What is ArDB?
ArDB is both a database management tool and analytics platform that empowers laboratories to construct, maintain and manage a centralized database of their analytical results.
---
Database Management
ArDB is designed to avoid the use of spreadsheet software for recording sample information and archiving results.
Many laboratories who use spreadsheets to organize their analytical results end up facing many problems with data duplication, validation, consistency and a lack of tools for statistical evaluation and data management.
ArDBs database management tools support your existing data acquisition processes by handling your sample information and results, before and after acquisition time respectively.
Hassle-free construction and maintenance of sample databases
Store sample information (metadata) such as names, dates, coordinates, types, etc.
Create sample run lists for use by instrument control software
Record calibrated analytical results against samples
Full audit/versioning of any changes made to your databases
Sample publishing workflow
Once a database is constructed and your analytical results are published, ArDB provides an array of sophisticated analytical tools for interrogating and visualizing your data.
---
Data Analytics
ArDB goes beyond database management to provide a comprehensive analytical suite of tools to take your data further.
Grids
Charts (2D, 3D)
Maps
Reports
Statistical Calculations (PCA, LDA, Clustering, R, etc.)
Quality Control Statistics ("Shewhart Tests")
Filter, Group, Sort
...
---
Acquisition Workflow
ArDB works seamlessly with Elementar instrumentation, supporting automatic transfer of results from the instrument control software (e.g. lyticOS Software Suite) to ArDB.
We didn't just stop there... ArDB has been designed to work with any type of analytical result from many different types of scientific instruments.
ArDB allows laboratories to benefit from a well organized and managed database without having to worry about having to design and build their own platforms.
ArDB stores all sample information and analytical results in a centralized server, which any number of ArDB Desktop Clients can access - with appropriate permissions.
The ArDB Data Analytics capabilities come into play after your samples have been analyzed and validated (and any required corrections and/or calibrations are applied). Once your data is finalized, it can be straight-forwardly published to ArDB.
Once published to ArDB, your results are available for interrogation and interpretation using ArDBs powerful visualization and analytical tools.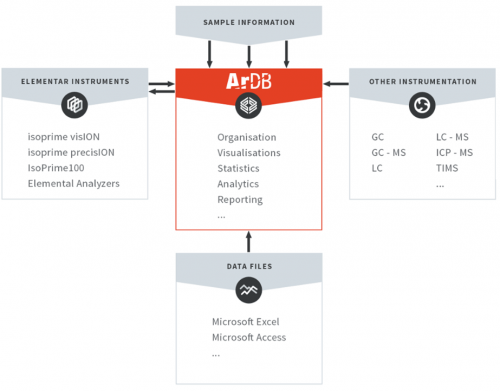 ---
A World of Applications
ArDB has no limitations on the data types that can be held within the database.
So no matter what techniques you are using (e.g. GC, HPLC, CHNS, EA, IRMS), or the type of samples you are working with, or what brand/type of instrumentation you use - ArDB is entirely flexible to accommodate your requirements.
Want to find out more about how ArDB might be useful to you?
---
Public Databases
Databases form a fundamental backbone of many of these applications and there have been numerous databases made available to the community.
Many of these databases provide data which can be consolidated into ArDB for your own research purposes.