Introducing ArDB Software
"ArDB is an intuitive software tool for developing databases of analytical results and generating powerful visualizations and analytics"
- ArDB is brought to you by Elementar, a world leader in CHNS (EA), TOC and IRMS instrumentation
Today's laboratory environments can be generously equipped with a large array of sophisticated analytical techniques. With many different capabilities at hand, vast amounts of data can be created at ever increasing speeds. Maintaining the integrity of this data is paramount. Whilst the instruments continue to create new data, it becomes ever more difficult to actually interrogate your data to discover the story behind your results. ArDB has been created as a tool to simplify your sample data workflows by managing and organizing your database and filtering and visualizing results.
ArDB makes it simple to construct, maintain and manage a database of analytical results, no matter which technique generated the result. With your results organized and recorded alongside associated sample meta data you can interrogate your data easier than ever before. The powerful capabilities for data visualizations make it simple to discover trends and relationships within your data. The fully integrated multi-variate analysis tools, allow databases with a high dimensionality of analytical results to be statistically reduced for easier interpretation. ArDB makes it easier to gain insights into your data.
Recent News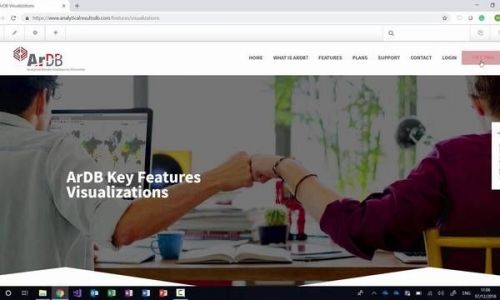 10 Jan 2019, 13:37
We have been listening to your feedback and working hard on new and exciting features. We have also heard you and created some new videos to help introduce these new features and guide you through getting the most from ArDB.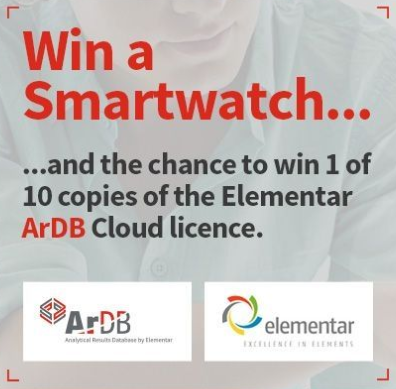 19 Dec 2018, 12:25
To celebrate the launch of the Analytical Results Database (ArDB), we asked you to tell us in around 100 words what you would do with a Cloud licence for the software tool. Hundreds of you entered, but we could only pick 10 winners. Here, we have summarised the winning answers to let you know how the winners will take advantage of the benefits of having a simple, secure and reliable database for analytical results.
Data Analytics with ArDB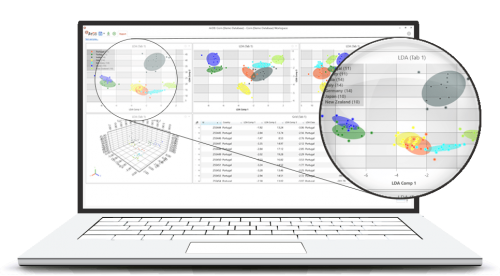 On-board multi-variate analysis
ArDB is able to combine all your analytical results from any type of instrumentation into a single database. With such complex multi-dimensional datasets finding patterns and trends in your data can be challenging.
ArDB has built in support for multi-variate analysis, making it just a few clicks away. Use Principal Component Analysis (PCA) or Linear Discriminant Analysis (LDA) to categorize, score and plot your results easily.
Using the resulting PCA / LDA components, ArDB makes it straight forward to compare any unknown samples against your database of authentic samples.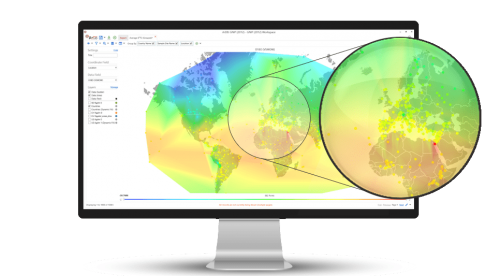 Discover geographic trends in your results
Samples analyzed in the lab may be inherently related to their geopgraphic origin. Being able to easily look for temporal and spatial trends in your data can be essential. ArDB offers powerful Geographical Information System (GIS) features that make this simple.
Once your results are plotted onto a map, data can be quickly aggregated to deliver average values for a given sampling site, or with the Smart Date functionality you can discover temporal trends over any time scale.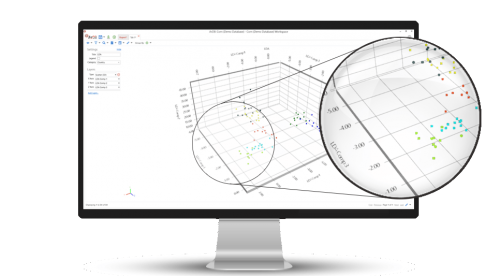 Visualize your data in 3-dimensions
With your results organized in ArDB, it is incredibly simple to begin visualizing your data.
Multiple charts can be plotted instantly and added to the Report page making it simple to see data trends as more samples are submitted to the database.
As well as 2-dimensional plots, ArDB is able to generate 3-dimensional plots which can be rotated, zoomed and panned to make interrogation even simpler, bringing unique perspectives to muti-variate plots.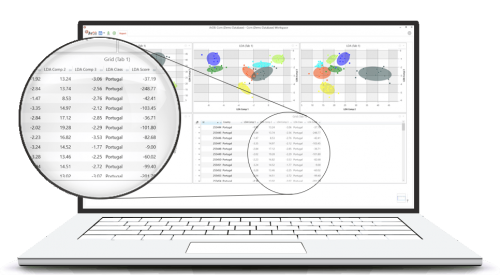 Compare unknown sample results with your database
After generating your comprehensive database of authentic samples, you may want to compare unknown or suspicious samples against them.
ArDB allows analytical results from unknown samples to be easily compared against your known database.
Using the in-built Principal Component Analysis (PCA) or Linear Discriminant Analysis (LDA) functionality, unknown samples can be visually compared as well as categorized with an associated score to provide a statistical evaluation.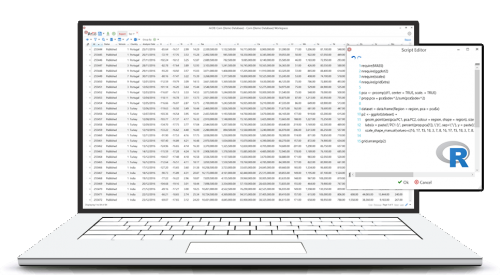 Extend your analytics beyond ArDB
ArDB provides powerful management and analysis tools tools for your analytical results as standard.
Take advantage of the many publicly available R packages and include them in your own customized R scripts that can be executed directly from ArDB to gain extra insights into your data.
Use your favourite statistical packages such as SPSS, Python and Matlab alongside ArDB, by taking your data offline using straight-forward filtering, grouping and sorting featured that get you the data you need faster.